Catlateral Damage
Introducing Catlateral Damage: Remeowstered!
---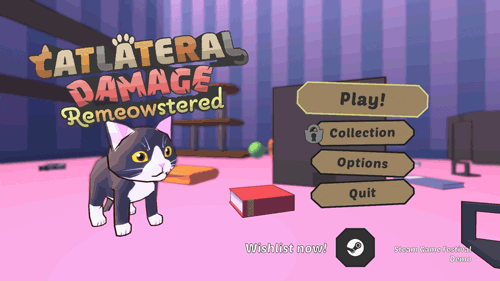 Back with a vengeance!
Catlateral Damage: Remeowstered is the "mew and improved" definitive edition of your favorite destructive house cat simulator! Rebuilt from the ground up, Remeowstered offers a completely revamped metagame, new objectives, new special abilities, and more plus all the mischievous gameplay and real-life cat photos you love. Add it to your Steam wishlist right meow!
Play during the Steam Game Festival!
Remeowstered will be featured during the Steam Game Festival from June 16 to June 22 with a limited time demo! Come watch the developer live stream on Tuesday, June 16 at 2pm PDT/5pm EDT and ask questions during the live Q&A on Wednesday, June 17 at 2pm PDT/5pm EDT.

Get the latest mews!